Please consider being a part of this important work.  Together, we can . . .
Preserve the Catholic heritage of a closed parish property
Restore the honor and dignity to an official (and miraculous) Marian Shrine
Provide inspiring Eucharistic worship
Witness to and teach the Franciscan charism of simplicity & sanctity
Promote pilgrimage and welcome pilgrims to the Shrine
Teach, nurture and promote devotion to the Blessed Virgin Mary
Provide offerings in biblical spirituality & on the Holy Land
Provide an oasis of spirituality for seekers
Seek the lost and teach the found
Help Catholics return to the Sacrament of Reconciliation
Feed the poor and nourish souls
Bring hope & healing to the local Pontiac community
Provide healing & intercessory prayer for the wounded and discouraged
How you can help:
Share Your Treasure:  Please consider making a financial donation to "A Gift for Our Mother" to make this mission possible.  Funds are needed for the continuing renovation, start up, and ongoing operational expenses associated with the property and our ministry.  There are a variety of ways to contribute.   Monetary gifts are tax-deductible.  To Donate, please click here.
Share Your Time and Talent:  A wide and diverse group of gifts are needed to help restore the property, from building and gardening skills to renovate the buildings, gardens and grounds, to retail help for the online store, to business skills for our marketing and ministry management activities, and just about everything in between.  If the Lord is inspiring you to donate of your time or talent, please email terrasanctapontiac@gmail.com for more information.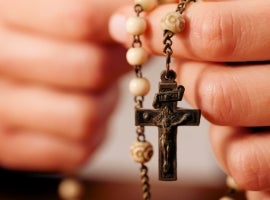 Prayer:  We greatly desire your zealous prayers that this graced place become, once again, a place where Heaven really meets earth.  We especially beg for your personal intercession and daily Rosaries offered up to the Queen of Heaven so that souls may be saved, sinners be converted to Jesus Christ, and world peace be promoted—beginning in Pontiac.